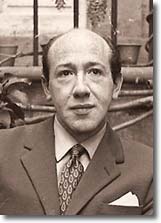 Composers, like pearls, are of three chief sorts, real, artificial, and cultured. David Diamond is unquestionably of the first sort; his talent and his sincerity have never been doubted by his hearers, his critics, or by his composer colleagues.

- Virgil Thomson, The New York Herald Tribune
Welcome to the official David Diamond website. This site is devoted to the life and compositional genius of David Leo Diamond, who was born in Rochester, NY on July 9, 1915 and died there on June 13, 2005, just a few weeks shy of his 90th birthday.
The website contains information about Diamond's life and compositions as well as upcoming performances of his works around the world. As the site continues to grow, it will ultimately provide a complete listing of published works.
A complete list of recordings featuring the works of David Diamond is available on this site. Browse the recordings, listen to excerpts and read the reviews.
This site will be updated on a regular basis with stories about Diamond's life, news and rare photos from his personal collection. We invite you to contact us with your your stories, photos and tributes for inclusion on this website.
Brand New Feature - Archival Audio Clips
As we begin to update the David Diamond website over the course of the next few weeks, we wanted to share with you some wonderful audio interviews with David Diamond as well as clips from some of his early works and later compositions. Click here to visit our newest page.
---
Ad Hoc Chamber Ensemble to performed David Diamond's "Rounds" on January 13, 2013
In 1944, Dmitri Mitropoulos commissioned a new work from composer David Diamond. The world was at war. He wrote to Diamond: "These are distressing times. Most of the difficult music I play is distressing. Make me happy."
The result was Diamond's Rounds for String Orchestra. On January 19, 2013, Ad Hoc gave a concert inspired by the same idea that inspired Diamond 59 years ago: "Make Me Happy." We hope you enjoy their video clip.
---
David Diamond website to be updated in 2013!
Over the course of the next several weeks, this website will be updated to include the LP Era - photos of Diamond's LP recordings, an updated recordings page, YouTube clips of Diamond symphonies, chamber works and more photos from the Estate of David Diamond.
---
© Copyright 2007 - 2013 The Estate of David L. Diamond All Rights Reserved
Design by Paladin Digital