A vital branch in the stream of American music. - Leonard Bernstein
David Diamond was born on July 9, 1915 in Rochester, New York. By the age of seven he was playing a violin borrowed from a family friend and writing original tunes in his own system of musical notation. In 1927 the Diamond family moved to Cleveland, Ohio, where David's talent finally came to the attention of Andre de Ribaupierre, a Swiss musician teaching in Cleveland, who arranged for him to receive his first formal training at the Cleveland Institute of Music. In 1930 the family returned to Rochester where Diamond continued his studies at the Eastman School or Music with Bernard Rogers in composition and Effie Knauss in violin.
In the fall of 1934 Diamond went to New York on a scholarship from the New Music School and Dalcroze Institute, studying with Paul Boepple and Roger Sessions until the spring of 1936. That summer, Diamond was commissioned to compose the music for a ballet entitled TOM, to a scenario by E.E. Cummings based on "Uncle Tom's Cabin", to be choreographed by Leonide Massine. Massine was near Paris, and Diamond was sent there to be near the choreographer. Although, due to financial problems, the work was never performed, Diamond did establish contacts with Darius Milhaud, Albert Roussel, and the composer he revered above all others, Maurice Ravel. (The First Orchestral Suite from the Ballet TOM received its much belated – and much acclaimed – premiere in 1985, conducted by Gerard Schwarz).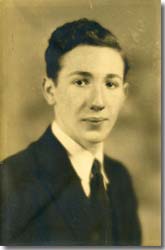 On Diamond's second visit to Paris in 1937, he joined the class of Nadia Boulanger at Fontainebleau. He was introduced to Igor Stravinsky, who listened to a four-hand piano version of Diamond's just-written Psalm for orchestra. With a few revisions based on Stravinsky's appraisal, Psalm won the 1937 Juilliard Publication Award, and was among the compositions influencing his receipt of a Guggenheim Fellowship in 1938. After the San Francisco performance of Psalm under Pierre Monteux, Alfred Frankenstein wrote: "On first hearing, the outstanding qualities of this work seem to be its fine, granitic seriousness, its significant compression of a large idea into a small space, and its spare, telling use of the large orchestra." Upon Ravel's death in 1937, Diamond wrote an Elegy for brass, percussion and harps (later arranged for strings and percussion), dedicated to the memory of the composer who had been his ideal. The Psalm and Elegy are strong and individual statements from a very young composer.
Read more about the life of David Diamond.
---
© Copyright 2007 - 2022 The Estate of David L. Diamond All Rights Reserved