Diamond spent 1938-39 in Paris on his Guggenheim Fellowship, returning to the U.S. at the start of the Second World War. These were lean years for Diamond, though an impressive number of awards and commissions during the 1940s somewhat relieved Diamond's struggle for daily needs. He received a second Guggenheim Fellowship, the Prix de Rome, a commission from Dimitri Mitropoulos (resulting in the popular Rounds for String Orchestra), a commission from the Koussevitzky Foundation for his Symphony No. 4, and a National Academy of Arts and Letters grant "In recognition of his outstanding gift among the youngest generation of composers, and for the high quality of his achievement as demonstrated in orchestral works, chamber music, and songs."
Important works appearing during the 1940s include the Concerto for Two Solo Pianos (1942), String Quartet No.2 (1943), Symphony No. 3 (1945), String Quartet No. 3 (1946, receiving the 1947 New York Music Critics' Circle Award), Sonata for Piano (1947) and Chaconne for Violin and Piano (1948). The World of Paul Klee, four scenes inspired by paintings of the Swiss artist, exhibits a new chromaticism Diamond developed in the 1950s. Irving Kolodin praised Diamond's "orchestral concept, his refinement of touch, and power of imagery" in this work. The String Quartet No. 4 from 1951 was nominated for a Grammy award in 1965, as recorded on Epic Records by the Beaux Arts Quartet. Alfred Frankenstein called the work "one of the masterpieces of modern American chamber music... The fugal movement provides one of the most moving experiences to be found in the whole range of modern American music, but the entire work is an achievement of the rarest quality."
Diamond also composed the musical theme heard on the CBS Radio Network's "Hear It Now" (1950-51) and its TV successor, "See It Now" (1951-58), both featuring the noted broadcast journalist, Edward R. Murrow.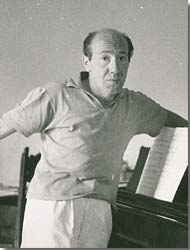 In 1951 Diamond returned to Europe as Fulbright Professor. Peermusic Classical signed him to an exclusive contract in 1952, which enabled him to remain in Europe, eventually settling in Florence, Italy. Except for brief visits to the United States, such as the occasion of his appointment as Slee Professor at the University of Buffalo in 1961 and again in 1963, he remained in Italy until 1965.
On his return to the U.S., Diamond was greeted by a series of country-wide concerts commemorating his fiftieth birthday. The New York Philharmonic performed two of his major orchestral works, the Symphony No. 5, with Leonard Bernstein conducting, and the Piano Concerto, conducted by Mr. Diamond himself. Harriet Johnson wrote of the fifth symphony that "Its rich texture, glowing from an expansive imagination, soars with a pulsation that is improvisatory but at the same time the essence of formal logic and economy of structure." Leonard Bernstein was even more enthusiastic, finding the fifth symphony "his finest and most concentrated symphonic work to date. But even more important, I find it to be a work that revives one's hopes for the symphonic form." Bernstein praised the "seriousness, intelligence, weight, deftness, technical mastery, and sheer abundance" of Diamond's music, calling him "a vital branch in the stream of American music."
From 1965 to 1967 Diamond taught at the Manhattan School of Music. During these two years he was the recipient of several awards, among them the Rheta Sosland Chamber Music prize for his String Quartet No. 8, the Stravinsky ASCAP award, and election to the National Institute of Arts and Letters.
A biography of David Diamond would not be complete without mention of his vocal music. Diamond's songs for voice and piano are among his finest achievements, sung by the likes of Jennie Tourel, Eileen Farrell, and Eleanor Steber. Hans Nathan wrote: "David Diamond has cultivated the art-song more consistently than any other American composer of his stature. Each of his songs is constructed with the same detailed care that is ordinarily given to an instrumental work."
The remarkable works from Diamond's twenties, dating from the late 1930s to the early 1940s, largely lapsed into obscurity following their premieres, and were out of favor in the 50s and 60s as tastes shifted to more experimental music. Extremely positive reviews checker the 60s and 70s, while major works went unperformed. In 1971 critic Paul Hume wrote, after a performance of the Symphony No .3, "Why, why, why has it taken so long for this brilliantly expressive work of consummate genius to come to any of our orchestral platforms? ...[It] carries the stamp of one of the noblest composers this country has produced."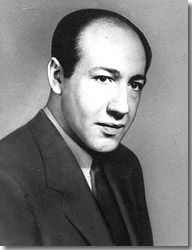 Equally perplexed was conductor Gerard Schwarz as he started his enthusiastic study of Diamond's works in the 1980s. The symphonies, after all, had been premiered by some of the great conductors and orchestras of the day: Dimitri Mitropoulos (Symphony No. 1, 1941, New York Philharmonic), Serge Koussevitzky (Symphony No. 2, 1944, Boston Symphony Orchestra), Charles Munch (Symphony No. 3, 1950, Boston Symphony Orchestra), Eugene Ormandy (Symphony No. 7, 1959, Philadelphia Orchestra), Leonard Bernstein (Symphony No. 8, 1961 and Symphony No. 5, 1966, New York Philharmonic). Schwarz embarked on a long-term program with the Seattle Symphony and New York Chamber Symphony to perform and record all of Diamond's some thirty orchestral works for Delos. Many of the recordings are now available on Naxos. More recently, the Potomac String Quartet has recorded all ten of Diamond's String Quartets for Albany Records.
Diamond was a professor of composition at The Juilliard School for some 25 years, starting in 1973. The renewed interest in Diamond's music starting in the 1980s has coincided with his being awarded some of the most significant honors available to a composer. In 1986, he received the William Schuman Lifetime Achievement Award. In 1991 he was awarded the Gold Medal of the American Academy of Arts and Letters and the Edward MacDowell Gold Medal for Lifetime Achievement. His music for orchestra was capped by the late Symphony No. 11 (1989-91), a major work commissioned by the New York Philharmonic in celebration of its 150th anniversary. In his New York Times review, Alex Ross wrote that "the confidence and conviction of the voice are unmistakable...the colossal effort of the Diamond premiere... should stand as a highlight of the current celebratory season." Diamond himself considered the eleventh symphony the summation of his achievement in symphonic music.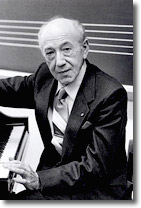 He was awarded the American National Medal of the Arts in 1995 by the National Endowment of the Arts in Washington D.C. and just three weeks before he died, Diamond was honored with the Juilliard Medal at the 100th commencement ceremony of The Juilliard School, which had previously awarded him an honorary Doctor of Music degree in 1998. At that ceremony, President Joseph W. Polisi said in a citation: "From 1973 until 1997 you offered your Juilliard students guidance, constructive criticism and the wisdom of your experience. Your students are now following in your footsteps by receiving commissions and winning numerous awards."
Diamond died at the age of 89 in 2005, in Rochester, New York, soon after a final visit to the Seattle Symphony and his champion, music director Gerard Schwarz. To leave the last word to the composer, here is an excerpt from his speech in 1991 as he accepted the Gold Medal from the American Academy of Arts and Letters:
I must continue to search and to serve, to achieve even more, and demand of myself in my last years the finest and most masterful works I am able to create. If achievement merits recognition, then recognition demands greater obligations; obligations to a universal humanity in need of spiritual and intellectual nourishment to which the art of music has been contributing for centuries. This Gold Medal shall remind me of what I must continue to do. And I shall pursue that goal until the day I die.
Biographical information courtesy of Peermusic Classical.
---
© Copyright 2007 - 2022 The Estate of David L. Diamond All Rights Reserved